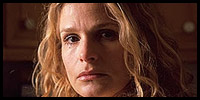 One of the most distinctive—and richly gratifying—aspects of "Personal Velocity" is that its characters do not resemble screenwriting creations so much as figures who have wandered out directly from the pages of a finely detailed short story. The same could be said about the overall tone and structure, which reminds one of a literary masterwork rather than a cinematic one, and no wonder. In adapting her same-titled 2001 novel—a collection of fifteen short stories, each one centering on a different woman's road to independence and catharsis—writer-director Rebecca Miller has truncated the anthology down to three stories, each one lasting just under thirty minutes.
While there is a subtle physical link between the three tales, they never intersect, and much of what relates them is purely on a thematic level. It is a testament to Miller's powerful handle of the material, then, that by the time the end credits roll the picture's parts have somehow come together to form a fully satisfying whole. There is a poignancy and an uncompromising honesty to these characters, as each one tries to break free from the restrictions of the men in their life who are holding them back from being their own complete person. And, most remarkably, the three central females come alive as few film characters do in a restrained time period of roughly 28 minutes per story.
The undervalued Kyra Sedgwick (1996's "Phenomenon") stars as "Delia," a mother of three children who has outwardly flaunted her sexuality around since she was a preteen. Fed up for the final time with being physically abused by her loutish husband (David Warshofsky), Delia packs her suitcase and leaves with her kids. Suddenly on her own, she must make a decision about what she plans to do in order to keep her children safe and herself feeling worthy of something.
Parker Posey (2002's "
The Sweetest Thing
") is "Greta," a Manhattan-based cookbook editor who has fooled herself into believing she is happily married to Lee (Tim Guinee) until an acclaimed author, Thavi Matola (Joel de la Fuente) gives her a big professional break as his editor. As Greta's success rises, she is exposed to her problems with fidelity over the years and realizes, to her astonishment, that she could leave Lee at any time and it wouldn't make the least bit of difference to her.
Finally, Fairuza Balk (2002's "
Deuces Wild
") is "Paula," a young pregnant woman who has left the security of her boyfriend (Seth Gilliam) for an aimless road trip that leads to several chance experiences, including the sudden death of a just-met acquaintance and the picking up of a severely wounded teenage hitchhiker, Kevin (Lou Taylor Pucci). Paula suspects these encounters are a sort of mystical sign that she cannot ignore.
Out of three stories that are all nearly equal gems, "Delia" comes out on top. Sedgwick, in her first major role in several years, reminds one of why she is such a wonderful performer, the way she can embody the character she is portraying with both comic relish and true humanism. More than that, there is a beauty in its view of a woman who has never made any qualms about the sexual power she has over men, and takes it to her full advantage. Delia's theme, the classic Mel McDaniel country song, "Baby's Got Her Blue Jeans On," is an incendiary addition on Miller's part that packs quite a punch when mixed with the
avante garde
visuals, shot on mini-DV by cinematographer Ellen Kuras (2001's "
Blow
").
Following closely behind is "Paula," which takes on a dreamier, almost surreal tone than the other two, and leads to the most thought-provoking conclusion. Fairuza Balk has never been better, and the alternate pain, confusion, and hope that Paula holds makes for an invigoratingly deep film role.
Finally, "Greta" is the least of the three endeavors if only because its character arc is the least earth-shattering. Still, the story is three-dimensional and emotionally rewarding in its subtler character psychology. Parker Posey adds depth and unexpected humor to Greta, a woman who is rising to the peak of career, yet feeling increasingly alienated from her kind husband.
One of the delights in viewing "Personal Velocity" is the way writer-director Rebecca Miller—as in her short stories—progressively peels away layer upon layer of the characters' past, present, and future to form an enriching, enveloping experience. If there is a complaint about the film, it is that the stories all could have benefited from further development. At the same time, Delia, Greta, and Paula rank as three of the most multilayered and sympathetic female characters of the year. As each of them searches for their place in the world, Miller digs into their very minds to find an unblinking, flawed humanity everyone can relate to. She understands these women, and through Miller, so do we. "Personal Velocity" is one of the strongest independent features of 2002.
©2002 by Dustin Putman